3 Tips for Choosing the Right Wedding Photographer Insurance
By: The Athos Team
June 13, 2022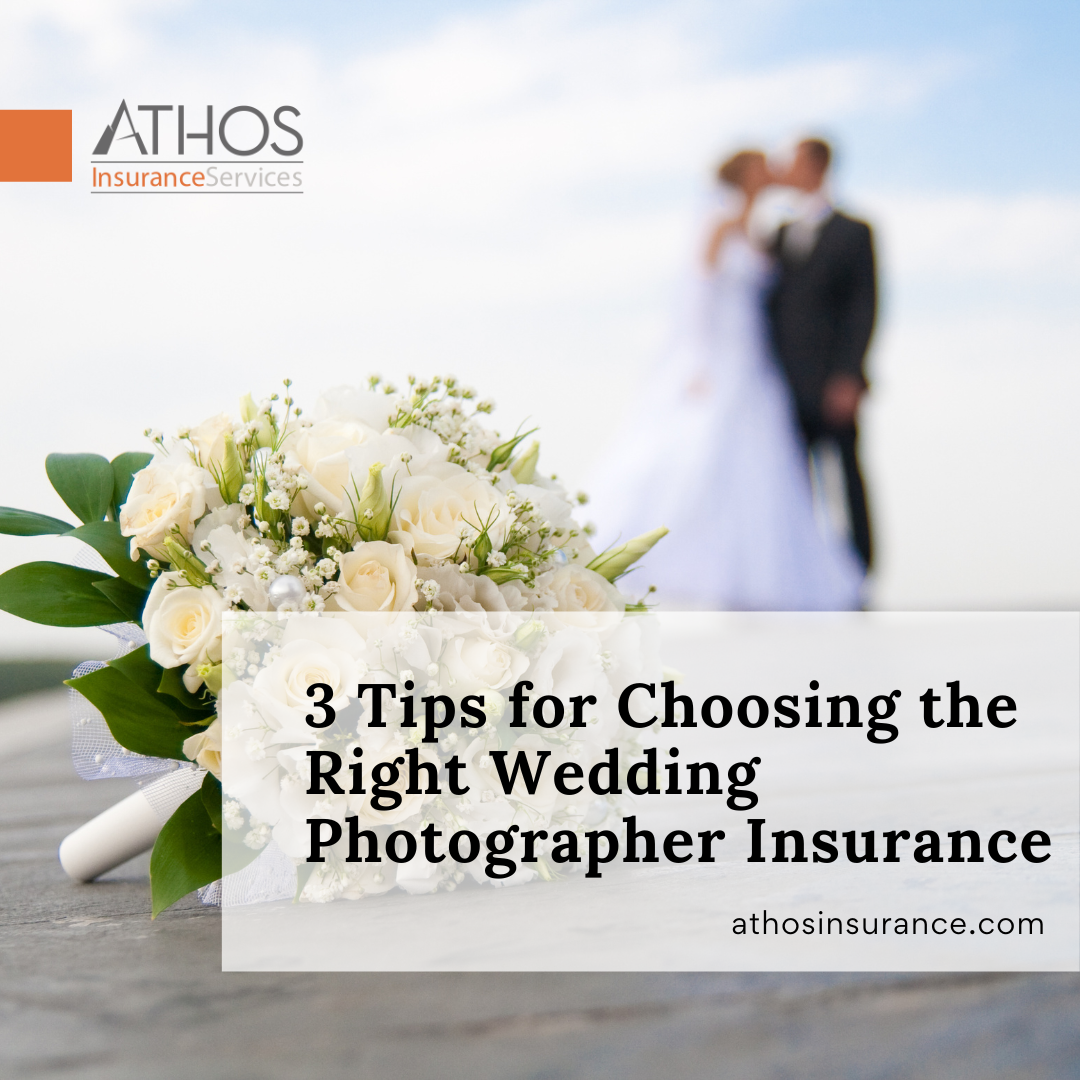 So you finally landed a killer wedding gig. Not only will this cover your rent for the month, but if all goes well, it could lead to many more similar gigs. But before you can capture the smiles, "I do"s, and dancing grannies, there are a few housekeeping things you'll want to consider– probably the most important of which is insurance. Choosing an insurance policy for a wedding photographer isn't rocket science, but figuring out what kind of coverage you are going to need, and the best place to get it can be confusing. With so many different companies and plan types, it can be overwhelming to choose. So, whether this is your first gig or you're a seasoned vet looking for a better plan, let's explore some tips for choosing the best one.
What is wedding photographer insurance?
Wedding Photographer Insurance is, simply put, insurance that a wedding photographer will purchase to protect their equipment and themselves when shooting a wedding. This may sound very specific, because it is, but weddings are a major industry, and wedding photographer is its own distinct profession! Many photographers make a living shooting weddings. And like most in-person professions, photographers are going to want to get insurance. This is not something that would be provided by the customer, the wedding venue, or included in any sort of prepaid package, but something that a wedding photographer must purchase on their own, as an independent contractor.

Why do wedding photographers need insurance?
Before we get into the best way to choose wedding photographer insurance, you might be wondering why you even need it? Do you really want to spend a portion of your pay on insurance? What are the odds you would ever need it? While it might seem unlikely that anything will go wrong, we can tell you from experience, it's worth it. First of all, many venues will require all vendors, including photographers, to carry insurance in order to work a wedding there. But even without that requirement, it would be very risky as a photographer to work any event without it, and especially a wedding. Weddings tend to be joyous occasions, filled with dancing, laughing, and toasts. They're generally so much fun for guests and even those working. But weddings also carry their own set of risks and dangers, to both people and equipment. A lot of money is being spent on one epic party, which means a lot of different people and companies are coming together that haven't worked together before, often in an unfamiliar venue. With so many variables, and so many moving parts, accidents can and do happen. If a drunk guest trips over your tripod while trying some new dance moves, you're going to want liability insurance in case the guest is injured and decides to sue you. If a caterer drops a tray of sparkling champagne on your expensive DSLR, you're going to want equipment insurance that will cover the damage to your gear.. These are just examples, of course, but the potential hazards are endless. Not that it's all doom and gloom or anything. No one wants or even expects accidents to happen at a wedding, and it's not likely at any given event, but when accidents do happen, you're going to be very relieved to have insurance that will protect you and your equipment. Even a minor incident can end up costing a lot more than you might expect.

What kind of insurance do I need as a wedding photographer?
We know, talking about insurance is the least exciting part of being a photographer. But now that we understand how important wedding photographer insurance is, let's get into some details. What kind of insurance can you get as a wedding photographer, and what kind do you need? For a wedding photographer, you'll want both equipment insurance and liability insurance, and possibly some others. Equipment insurance covers damage or theft of your equipment, and liability insurance covers you and your business if someone were to get hurt or injured and blame you. It can also cover damage you may have caused to the venue. You can generally buy them together as a bundle to save money and make life easier, or you can purchase each type on its own if you really need to. There are a few additional types of insurance wedding photographers can purchase as well, including property insurance, if you happen to damage the venue, and errors and omissions insurance, which protects you from lawsuits by unsatisfied customers who feel they didn't get what they paid for. There's also the matter of duration, or term. If you've been hired to photograph one wedding, you'll want a short -term plan that will usually cover you for a few days, or the duration of the event. Don't forget to include rehearsals, etc, that you're also hired for. But, let's say things are really taking off, and you have 4 weddings booked this year, you may end up saving money by getting a long-term or annual plan, like any small business would have. Athos offers both types, and can help guide you to the right plan to fit your needs and the needs of your photography business.
How much does wedding photographer insurance cost?
If the idea of purchasing an insurance plan for your wedding photography sounds daunting and expensive, don't worry. There are a variety of plans that fit your needs at a rate that won't break your budget. How much a plan will cost, specifically, is hard to say, due to the variables involved. You can get a lower-deductible plan with higher premiums, or vice versa, or lower upfront cost but less coverage if something were to go wrong. The price for insurance will also depend whether you want short or long-term, and which specific coverages you want to buy. But just to have a general ballpark idea, you can usually buy a basic plan for a single wedding as a vendor starting at around $75. An annual policy will have a higher premium but may be more cost-effective in the long run. Athos agents are experts in all things event, equipment, and liability insurance, and will gladly talk you through the process. You can also apply for a quote and purchase a plan completely online, in just minutes.
Weddings are a great chance for family and friends to come together and celebrate a momentous occasion. These are moments and memories that the couple and their guests will remember for a lifetime, and of course, that's what they hire a photographer to capture. And wedding photography is also a thriving business! It can be fun, exciting, and lucrative. And of course we all hope that every event goes off without a hitch, but occasionally things happen, and your best bet is to be prepared. In our many years in the business, we've never heard someone regret buying insurance, but we've heard many, many people regret not buying insurance after something goes wrong. The best way to protect yourself, your equipment, and your peace of mind, is to have the appropriate coverage. Call Athos today or apply online to get the plan that works best for you and your needs. We're experts in insurance for wedding photographers, and can get you the coverage you need, so you can focus on capturing these once-in-a-lifetime moments!